How does the credits system work?
Using our Financial History screen, you can control your top up, bonus amounts, and your credits consumption for each and every hired service.
First Access your Control Panel, and go to My Profile on the top left corner and choose Financial History: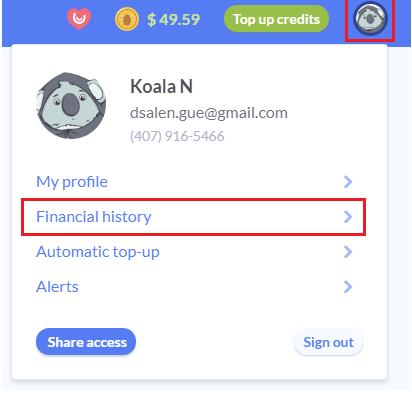 Now, on the Payments tab you can check all the top-ups and bonus in your account, organized by Date, Payment method and amount:


Under the Usage tab it is possible to check how much of your credits have been used for the current month, and for the previous months by clicking on the left arrow next to the month on the top right corner.
The table shows information of the hired services and clicking on the domains or servers hired it is possible to see detailed information.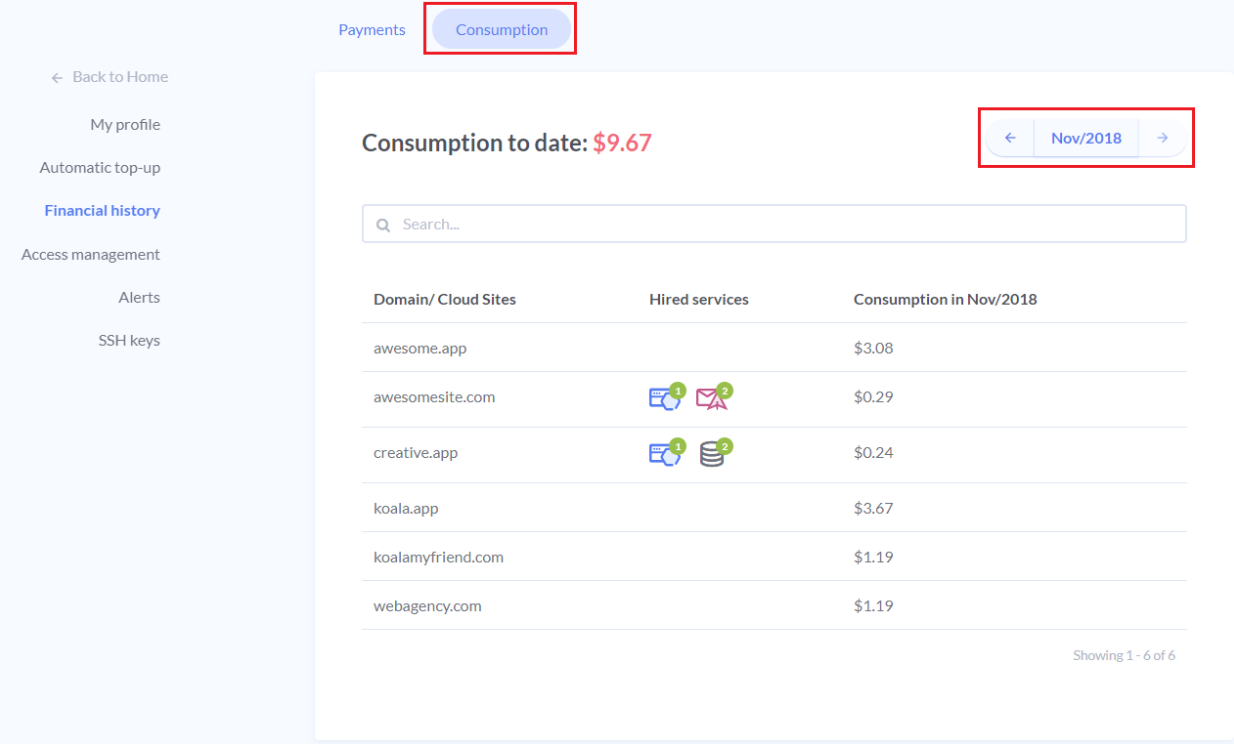 Our payment method is similar to some mobile companies, where you pay as you go and can top up at anytime to have your services reactivated. You can make a top up for as many days as you want, based on your usage.
The credits are charged just for the services hired, there are no extra fees for CPU or bandwidth usage, for example. So you don't need to worry if your website is going to have an influx of visitors, or if this month you plan on sending or receiving a lot of email messages. Your credits usage won't change :)
Umbler charges it's services by the hour, meaning that the total price by month must be divided by 30 (days a month) then 24 (hours a day) and this is the hourly charge. So if you need a server upgrade for a limited period of time, you will only pay for the hours of the extra time.
Suspension & cancellation of services
Please be aware of the suspension and cancellation times and rules:
- Clients that have never top up will have their services suspended when the bonus credits come to an end, and cancelled (removed) after 10 days with no credits.
- Clients that have top up in the past, will have their services suspended after 10 days with no credit (negative balance), and cancelled (removed) after 30 days with no credit.
Several alerts will be sent to the e-mail address registered for the Umbler account before suspension and cancellation.