Suspended Website
Your website could be Suspended for many different reasons: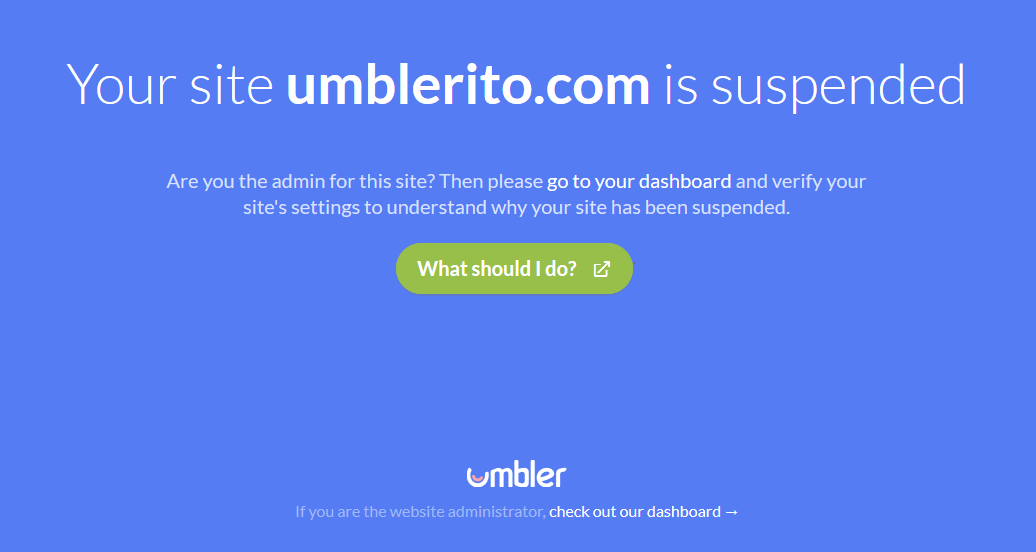 It is very important that after each and every of the below explained processes are completed access to the site is done without cache by pressing
Ctrl + F5
or using a proxy, like
https://kproxy.com
Lack of credits in your account
Please check that you actually have credits to be running the service in the Control Panel. And if you are having trouble adding credits, follow this tutorial.
Wrong A pointing in your DNS
Please check that in your current NameServer DNS Zone the A pointing is actually pointing to your website at Umbler.
In order to check the current IP address of your site at Umbler click here and check the IP address configured under the A pointing.
In case you are using Umbler's nameservers you can go ahead and check the configuration directly in your Control Panel and you may choose the Restore option to set all pointings to it's defaults.
Website is forcing HTTPS but no certificate is installed
Check your browsers address bar to see if the access is being done using https.
Should that be the case, you may deactivate the https rewrite or install a SSL certificate for secure access, as explained in this tutorial.
Access is being done through the IP address instead of the actual URL
At Umbler, every access to the website using your browser must be done through the URL (domain name) and never using the IP address, check the address bar.
The website might be set to "Paused"
Try pausing (and not restarting) the website, and after 5 minutes starting it again.
If this tutorial doesn't help you solve your suspended site problem, please feel free to contact the support for further assistance, we'll be more than glad to help you:)