Making payments at Umbler
At Umbler you only pay for what you use, here you pay-as-you-go. At the main screen, on the top you can check how many credits you have and for long they will last based on your current services.
To check the different payment methods, go to Top up Credits on the top right pane.

Please be aware of the suspension and cancellation rules, described
here
.
Using the Automatic Top-Up every time your amount of credits hits the certain minimum limit a new top-up is made. You can choose these limits and amounts, just go to the Automatic Top-Up option, under Your Profile: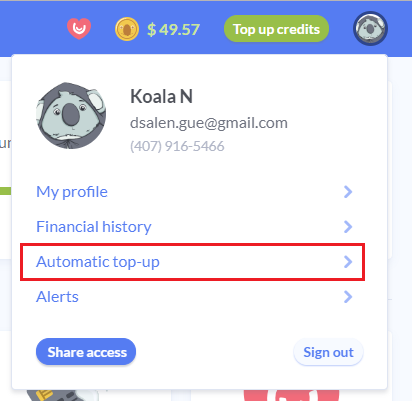 Amount to Top-Up: the amount of credits to be topped up upon triggering defined on the below field.
Minimum limit: minimum credits amount in which the automatic top-up will be triggered. This amount must be equivalent to at least 10 days worth of credits usage.
When clicking on Main Card the following screen will pop up, please fill in with your Credit Card details.
After adding the payment method, choose Yes to activate the automatic top-up and then hit Save.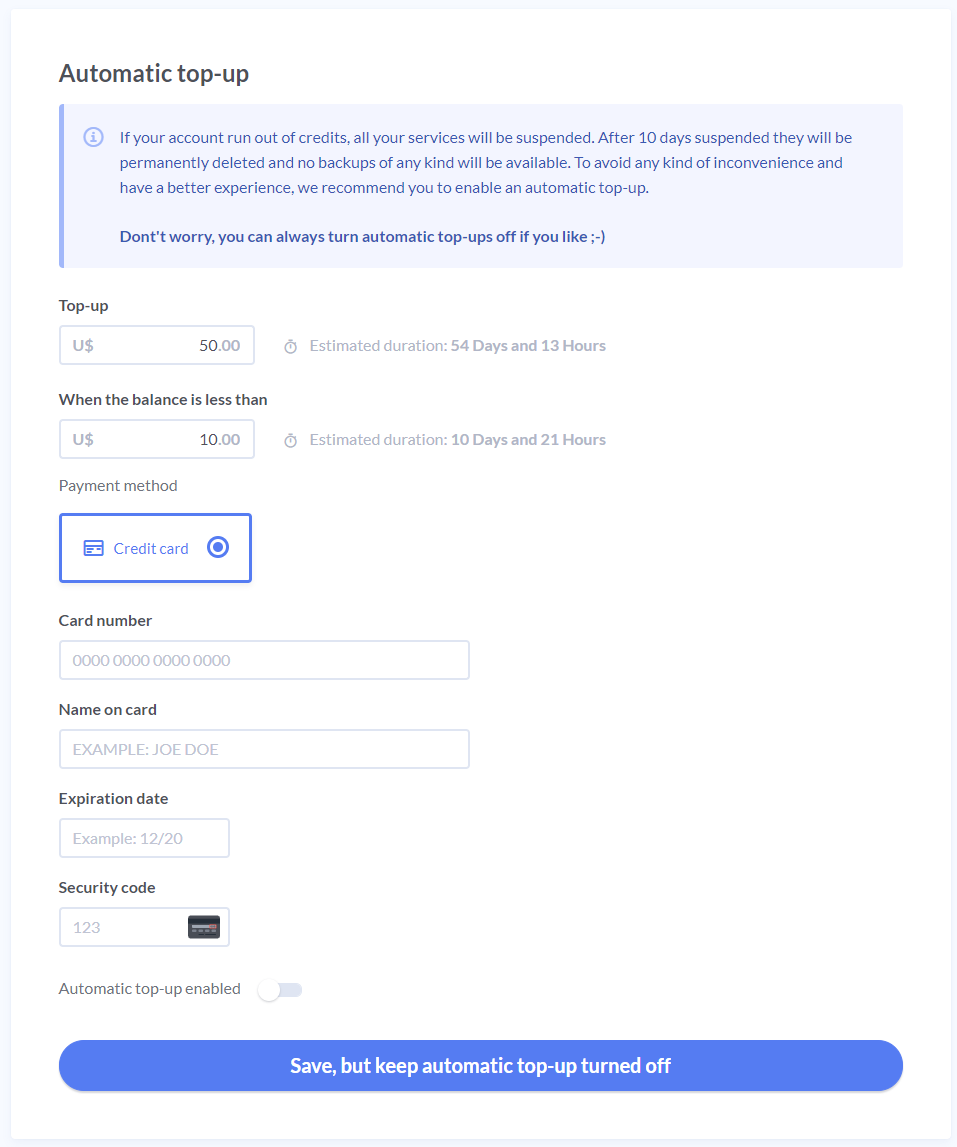 The automatic top-up will be disabled if the card is declined upon a top-up attempt.
If your having trouble trying to make a payment, please contact your card company and confirm if there is any kind of limitation for your card, and if you have enough limit. If you are still having trouble, don't hesitate to contact us through helpme@umbler.com.
Go to Manual Top Up on the Payment page and choose an amount equivalent to at least 5 days worth of services (adding up to the negative balance, if there is one) and just punch in the details for the Credit Card.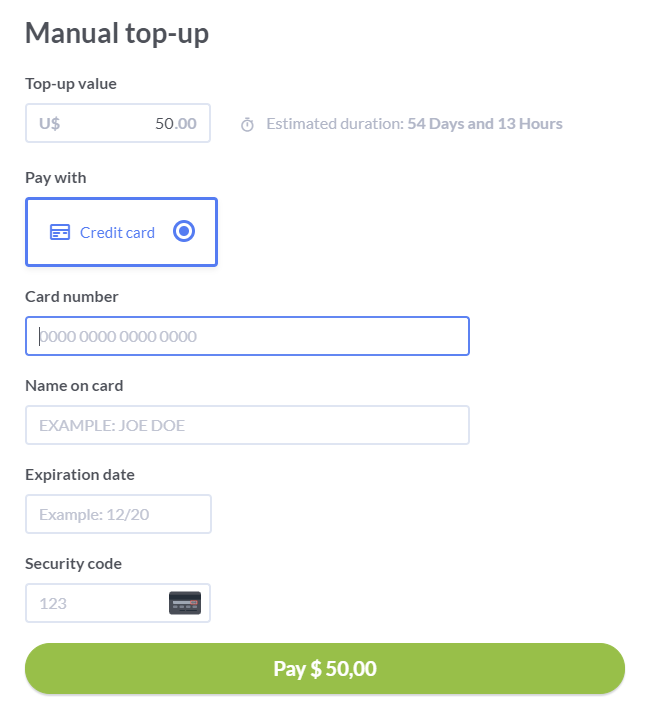 If you are having trouble making a payment, don't hesitate to contact us through friends@umbler.com.
If an error message is shown when trying to make a payment it could mean one of the following problems:
Payments should cover the negative balance (in case it there is one) plus 5 days of running services.
Payment via Credit Card:
Umbler doesn't accept payment via Debit Cards.
Credit Card blocked: there are many reasons a credit card company may issue a block to your credit card. Some of them are: Shopping where you've never shopped before, Making several purchases quickly, Charging something small, then something big, Shopping away from your home base, Charging travel expenses, Buying things in different geographic regions on the same day. In any of this cases, please contact your credit card issuer for details and solution.
Limit exceeded: If your credit card comes with a credit limit, that's the maximum amount you're allowed to charge on your credit card;
For security reasons your first payment may take up to 24hrs to be completed;
If you are having trouble making a payment, don't hesitate to contact us through
friends@umbler.com
.